Home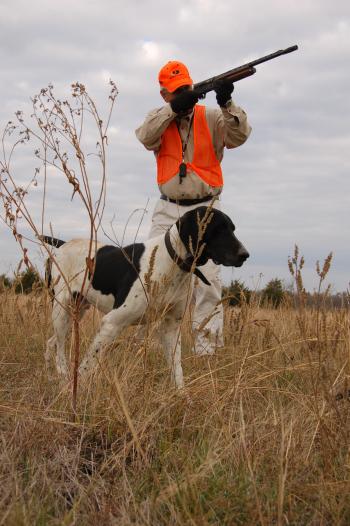 Contact us about Quail, Dove, Duck and Bow Deer day leases. 
2013/14 Membership $15.00 until September 1st 2014 
No membership fee required for children under 16, seniors over 64, active military a nd or disabled military. All services by reservation and appointment.
Poetry Shooting Club offers Quail Hunting and Bird Dog Training Facilities On a Year Round Basis.  The club is licensed by the Texas Parks and Wildlife Department as a Private Bird Hunting Area and a Game Bird Breeder which allows for the use of live pen raised Bob White Quail for bird dog training and Quail Hunting any time and without limits.
The Poetry Shooting Club wants to serve the Bird Dog Owners and Upland Game Hunters who want to experience the surprise and unending excitement of quail hunting in Northeast Texas.
We are dedicated to teaching young hunters the excitement of the outdoors.
The Poetry Shooting Club is a Quail Hunting Preserve with pen raised quail for use by bird dog trainers, quail hunters and event planners. Corporate or party quail hunts can be done at any time of year.
The Quail Hunting Preserve is located 35 mile east of Dallas, Texas and 8 miles north of Terrell, Texas one and a half miles off Highway 34 in the community of Poetry, Texas in northern Kaufman County. Educational and precision shooting encouraged.
Bob White Quail FAQ's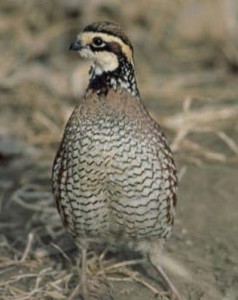 Bob White Quail wild populations have been in serious decline in Texas for many years. The decline is attributed to many issues and causes. Urban sprawl and increased agricultural uses have contributed to the loss of natural quail habitation. Added with the many predators deer, hawks, skunks, raccoons, dogs, cats, opossums and bob cats found in Texas has created an impossible situation for wild quail. Many efforts are and have been happening trying to reintroduce quail to the natural environment and mostly with little success. This quail crisis has created the need for quail hunters to pursue the sport of Upland Game Bird hunting of quail at licensed Quail Hunting Preserves.
Hunting dogs have long been aligned with man and his success. Man has loved his hunting dogs forever.
Bird dogs and their wild like fascination with birds has captured the spirits of many bird dog lovers over the centuries and continues to this day.
Cosmopolitan bird dog owners have always had the need to get out and work their dogs on live birds hopefully close to home.
The quail crisis presented above, the desire of quail hunters to hunt quail and the needs of bird dog owners to train has been the stimulus for the opening of the Poetry Shooting Club as a Quail Hunting Preserve and Bird Dog Training Facility. Being near Dallas, the Poetry Shooting Club makes it possible for cosmopolitan bird dog owners and metropolitan area quail hunters to have close proximity to wild outdoor experiences with live quail any time of the year. Flighty fast quail available from the flight pen any time.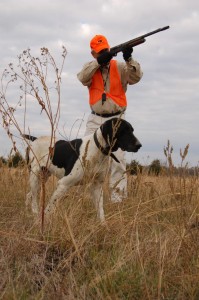 PSC is a Texas Licensed Private Bird Hunting Area providing year round hunts and bird dog training with live birds.
We are a Texas Game Bird Breeders licensee. We stock quail as needed for hunts, selling and training.
Our Mission: To provide a family style, private, exclusive area for bird dog training, estate quail hunts, and precision shooting for responsible gun owners in North East Texas.
PSC has a 45 acre field with four ponds for training your retriever.

Two Training fields each with two ponds. Nice puppy area.

Flighty Quail on site. Pheasants and Mallards available
About Us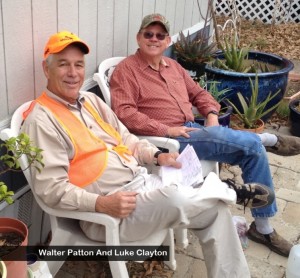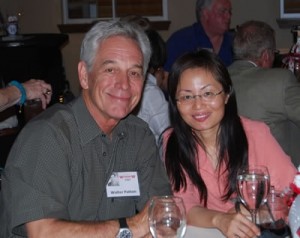 Walter and Grace Patton
Walter and wife Grace live on the property and work to make every visit memorable for every guest. Walter has known the land for 58 years and remembers tagging along with his dad and his friends for wild quail hunting on the property. Walter is glad to be the manager of Poetry Shooting Club and will work to earn your repeat business.
Walter is an older quail hunter who first experienced the thrill of Bobwhite covey rise in the wild on the same property where the Poetry Shooting Club is located today. Walter's Aunt Helen had a wonderful Bobwhite Quail whistle call mastered.
Walter first experienced pen raised quail with a family relative called Uncle Willie who raised Bobwhite quail and allowed the children to take a peek at his Bobwhites. Uncle Willie did not want the quail to see us looking at them and we could not play close to the outdoor pens. Today Walter is always looking for better ways to have the best flighty quail possible.
Poetry Shooting Club practices a Wildlife Habitat Management Program maintaining natural open range lands for wildlife. Day leases are done for dove, duck and deer season. Poetry Shooting Club also Offers Wildlife Asset Management services to neighbor land owners and deer leases for bow hunters.
We are now making reservations so just give us a call and we'll be delighted to set you up a hunt. If you have never Quail Hunted with us, we hope you will consider giving us a try and we"ll do our best to give you an affordable hunt that you will long remember. Hope to see you all soon!

Bring Your Kids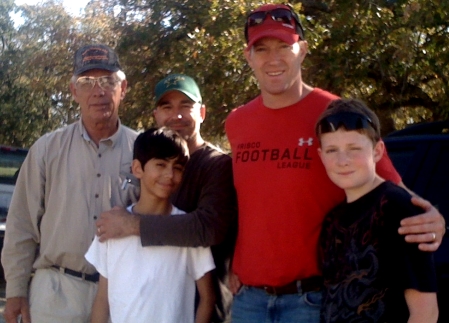 We want you, your children, your grandchildren and your friends to experience the benefits of time together with a good dog, a fast covey rise, and quail gravy. We will do our best to provide you that opportunity. Come on down to Poetry Shooting Club and let's go "Bird Huntin". We look forward to meeting and getting to know you!
Everyone at Poetry Shooting Club is very easy going and have a life time experience about all things outdoors, guns, hunters, dogs and hunting. We try to offer a good field for training as well as private quail hunts. We want to do our part to insure that future youngsters have the opportunity to experience and get the thrill of excitement watching a staunch pointing dog and the rush of the flush when Bobwhites jump up under your feet sometimes. Poetry Shooting Club has flighty quail on site at all times and offer unguided hunts and guided hunts. We hope to be a place close to Dallas for a quick and easy experience outdoors and behind some dogs after some quail.
Hunting for Bobwhite Quail
Quail are hunted in the fall using bird dogs that are trained to "point" to a covey (group) of quail when they find them (by smell)
. Then, upon command, they rush the covey of quail causing them to fly into the air. This is when the hunter is to shoot the quail, as they fly about trying to get away from you and the dog.
This all sounds very simple and it really is not that difficult if you remember a few important rules which we will cover in this article.
Quail hunting is usually done in pairs of men or women with a pair of specially trained dogs. Quail hunting is one of the only hunting sports I know in which you do not have to hide from your prey with camouflage. For safety's sake it is best that everyone wear bright colored clothing due to the close proximity of other hunters with weapons. The last thing you want to do is shoot your dog or the person hunting with you.
Let's cover these topics here for those of you that want to hunt quail:
Using A Shotgun to Hunt For Quail
You may hunt quail with a shotgun with the gauge of 410 to 12 gauge. What is important is the proper barrel length and choke on your shotgun. It has been recommended that a 26″ barrel with a skeet or improved cylinder choke be used.
The 20 gauge shotgun is the most common gauge of shotgun used to hunt quail the 28 gauge is gaining popularity among some hunters. A 71/2 to 8 load shell is suggested when hunting quail.
Safety While Hunting Quail
As we mentioned earlier most quail hunts involve 2 people and 2 dogs in the field at one time. Each dog is competing to see if he can find the covey of quail first. When the first quail covey is located and pointed by the dog that found it then the other dog is trained to point the first dog. Excitement is building as we await the flush of the quail covey….but wait we must consider safety first and this is what should go on:
As a rule the hunters should approach their perspective dogs from behind.

Gun muzzles should be pointed skyward and the shotgun on safety until mounted to one's shoulder.

The two hunters should approach the dogs , one on either side, and in a straight line with each other. This straight line is important for hunter safety.

Before moving up and allowing the birds to flush each hunter should visibly and mentally locate each other, both dogs, the hunting rig, and the hunting guide (if on a guided hunt). Each hunter should have been informed of the range of swing he has with his gun before the hunt as follows…….

Each hunter's range of swing should be from the mid-point between him and his partner and out to his side.  A hunter should never cross mid-point to shoot at a quail flying on his partner's side. Not only is this bad manners it is dangerous.

A quail hunter should never take a shot at a low flying quail that would cause him to lower the muzzle of his shotgun below a horizontal plane with the ground. This type of shot could hit one of the dogs.
Of course circumstances may have it that you cannot approach your bird dogs from behind due to wind factors or the quail escape route. But generally speaking, the rules listed above should be followed when hunting quail.
As you can see quail hunting is not a type of hunt that you just jump into. Set up your Quail Hunt at Poetry Shooting Club for fun, safety, and successful hunting.