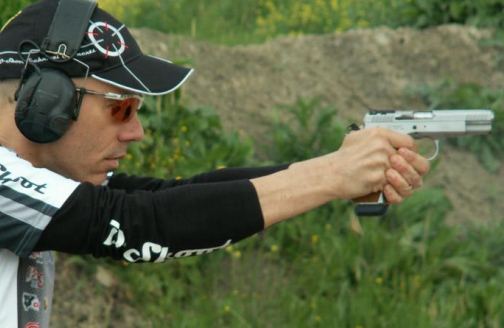 Close to Dallas, the pistol range is open daily at the Poetry Shooting Club. Our pistol range offers many different venues for the pistol shooting enthusiast. The pistol range features ranges up to 100 yards with pistol stations at many different distances.
This range  is perfect for Concealed Handgun Licensing classes. Large caliber hunting pistol shooting is allowed on the pistol range with targets placed low on the berm.
Our pistol range has a set of steel targets to be used for a Rim Fire Challenge in the future with other co-sponsor clubs.
Classes are offered periodically and private lessons are available. Instructional services available for all levels from introduction to firearms to competition shooting. CHL classes offered. Defensive pistol shooting and home defense classes for all levels from beginner to mature shooters with special attention given to first time and beginner male and female shooters and youth shooters. The pistol range has a class room available and instructors in all disciplines are invited and welcome.
Use of the pistol range is on a membership basis with a membership fee of $15.00 from September 1st to September 1st each year like the hunting licenses in Texas. No membership fees are required for youth under 16, shooters over 65, active or disable military and disabled persons. Appointments are always required and the pistol range is only booked for one customer or one group of shooters known to each other at a time so that the shooter(s) have the exclusive and private use and have exclusive use of the pistol range.
This is quite unique, and always appreciated by the members for both safety, and privacy.
Fee is $25.00 per shooter for two hours and may go longer if no one is booked next. Proficiency must be demonstrated if requested by our manager. Steel targets are not allowed and reactive targets that are allowed include balloons, clay pigeons, china plates and binary exploding targets. If using binary exploding targets, the member must bring a fire extinguisher. The range will soon have a very sophisticated target camera for rent if desired and should make precision pistol shooting much easier. Target backer boards, staple gun are provided and targets may be purchased or brought with you. All brass must be picked up by the shooter.
The pistol range is a family style, ma & pa, low key operation and is available for family and individual use. Use by professional groups and law enforcement agencies are also encouraged. No drinking and or drug use is allowed at any time at the pistol range. The pistol range is located 35 miles east of Dallas, Texas and 8 miles north of Terrell Texas in the community known for over 100 years as Poetry, Texas. We are sure you will enjoy the use of the pistol range at the Poetry Shooting Club and we look forward to earning your business.
Our motto; "Take a youth shooting to build boldness and confidence in their future"
NOTE ; Range users are encouraged to determine if they are covered by their home owners policy or to obtain shooters liability insurance to cover any liabilities incurred.