Dove Hunting
Dove Hunting near Dallas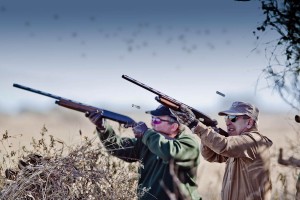 Morning dove hunting in north east Texas is a perennial activity enjoyed by thousands of hunters. Many individuals and families plan their calendars around the annual first day of dove hunting.
Dove season in north east Texas usually starts on September the 1st each year. Days off are scheduled and school days are missed for the yearly pursuit of Mourning doves in the hunting field.
Dove hunting locations and leases are secured in advance and become filled with hunters at day light and last until the sun goes down. Land owners planet crops to attract doves each year.
Popular crops for dove are Milo, maize, and sunflowers.
Poetry Shooting Club offers dove hunts at $50.00 per half day when we have doves. Usually better into the season than opening day. Need some cold weather up north to push them down .