Bird Dog Training
Bird Dog Training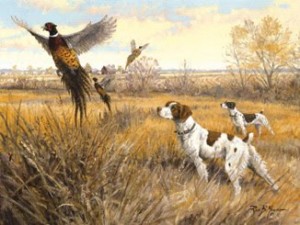 Bird dog training  is available anytime at the Poetry Shooting Club. Bird dog training was the original reason that the Poetry Shooting Club was started. Accommodating bird dog owners and their need for a location close to Dallas to do bird dog training is our first goal at Poetry Shooting Club.
According to Texas law, bird dog training with pen raised quail may only be done outside of Quail hunting season on a Quail Hunting Preserve licensed as a "Private Bird Hunting Area" as is the Poetry Shooting Club.
Bird dog training is on a membership basis with a membership fee of $15.00 from September 1st to September 1st each year like the hunting licenses in Texas.
Bird Dog Training Fees:
Training Field fee is $50.00 for two hours for an owner and their dog/s for training or tune up work. There is a $50.00 fee for additional shooter, no charge for family member observer.  Manager Walter Patton is usually available for bird boy work as shooter, dog handler,  for $25 per hour. Flighty quail are priced at market rate from $7.00.each.

. No bird boy services included, you put out your own birds. Bird boy service available for $1.00 per bird and I put out the birds. Bird cleaning service offered at $1.00 per bird.
Bird Dog Training Aids:
Homing pigeons are available not to be shot, at  $5.00 each rental and wild pigeons that may be shot at $8.00 each when we have them. Three remote control bird launchers available for rent  at $15.00 each or 3 for $30.00. E Collars may be rented also.
Young dog training field $25.00. This is for first time outing with young pups

Do It Yourself Trainer Specials – Use of remote control launchers, E-collars, instruction and helper available.
Dog Boarding all at customers risk
$15.00/day less than 10 days
$12.00/day less than 20 days
$10.00/day 30 days or more
Customer to supply feed and meds
Our motto; "Take a youth shooting to build boldness and confidence in their future"
NOTE: Hunters, trainers and boarders are encouraged to determine if they are covered by their home owners policy or to obtain hunters insurance to cover any liabilities incurred.